RESPIROME

TRY



APPLICATION TESTS for the
PHASE V ARTHUR RESPIROMETER

Development of the following tests by Arthur Technology (now
Respirometry Plus) began over 40 years ago when the Arthur
Respirometer was introduced. The tests have been used by
operators, technicians and consultants worldwide. Customers
receive detailed written instructions for performing these tests,
or they may choose to learn through our Distance Training
program - one-on-one training sessions conducted by phone
and fax.



.
Influent Characteristics Tests - This is where good plant
operation begins, with timely, upfront information that gives you
a

real time

look inside the process.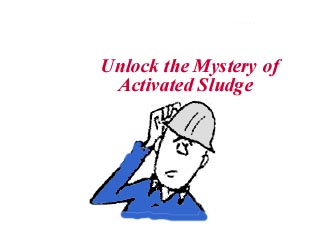 TEST THE INFLUENT FOR...
Organic Load (amount of food)
Treatability - Treatment Time
TM
Toxicity – Carbonaceous – Nitrogenous

Rapid Response Test (15 minutes)

Influent Inhibition Test
.
Process Control Tests -
Use these tests for Economical
Operation, Increased Plant Stability, Meeting Effluent Limit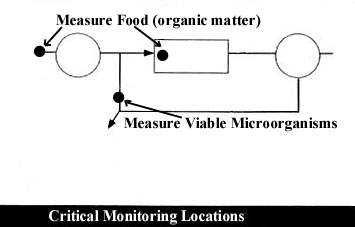 GET CONTROL TEST RESULTS IN MINUTES
. Anticipatory Aeration Control . Equalization Control

. Wasting Control
. Control of Viability

. Return Sludge Control
. Nitrification/Denitrification

. Fb/Mv Control
. Biosolids
. Anaerobic Digestion


.
Troubleshooting Tests - These tests should be run while the plant
is functioning well. With graphs of "good operation" in hand, you will be
well prepared to pinpoint and solve problems quickly when they occur.

Typical Respiration Graph
. at the Inlet . at the Outlet . at the Return Sludge
Viability Index - How lively are the "bugs" ?
20-Minute Performance Test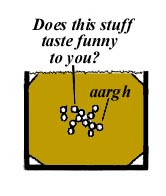 LET THE BUGS ALERT
YOU TO PENDING
PROBLEMS

THREE TESTS MOST COMMONLY PERFORMED
BY THE ARTHUR RESPIROMETER

TWO

TOXICITY TESTS - Rapid Results Screening Test and the
Influent Inhibition Test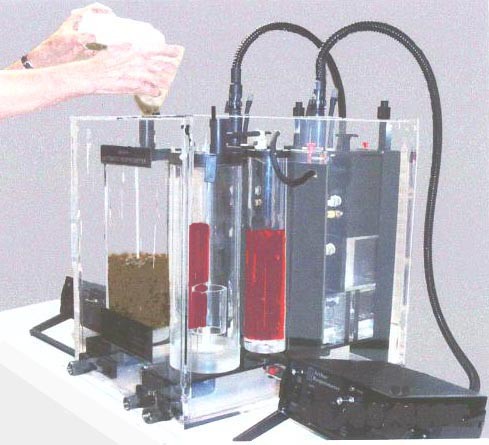 Preparing the Test
In one chamber suspect sample is
added to endogenous sludge from
the wastewater plant. Endogenous
sludge alone will be added to the
other chamber as a comparison.
Graphic Test Results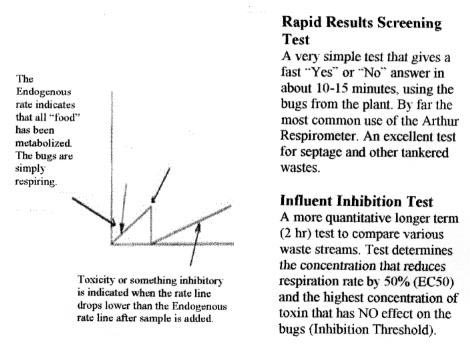 COMPOST & BIOSOLIDS TESTING
Compost Process Control Testing


The Arthur Respirometer is capable of measuring respiration
of raw samples by providing a continuous record of changes
in oxygen use. In this application the solid compost is placed
on a tier of perforated stages within the sample chamber
and air circulates freely through the compost..
Stability Testing of the Final Product - A

Stress

Test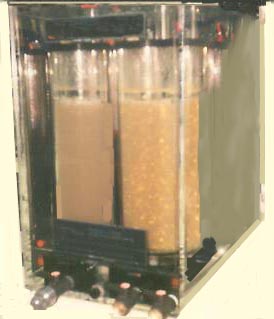 In this test, the compost sample is tested in an
acqueous solution. This produces an environment
in which there is intimate contact of food, micro-
organisms and oxygen. Even small amounts of
food are available for metabolizm by the
microorganisms. This test ensures that the compost
is stable.

Soil Biodegradability Testing - using either the Automated
or the Simplified Respirometer.
Landfills have become a common method of disposing of municipal solid
wastes in many communities.If the waste products are organic, it is likely
that metabolic activity (probably anaerobic) will take place. The probability
of it taking place can be determined by either performing solid tests or
acqueous tests in the respirometer. Either method will determine whether
or not toxins are present in the landfill.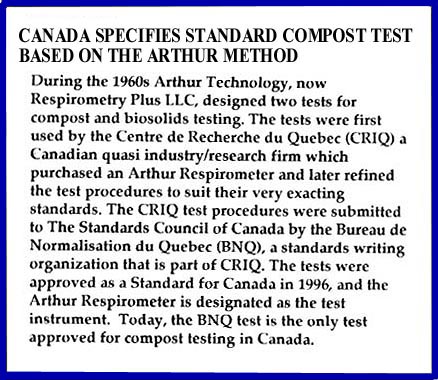 Reference:
CAN/BNQ 0413-220 Organic Soil Conditioners -
Composts - Determination of Respiration Rate -
Respirometric Method.